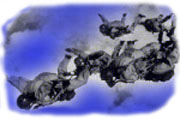 ---

"BEST OF THE WEB!"

This site is a "Best of the web" selection on TOM HUNTER'S SPECIAL OPERATIONS HOME PAGE! For those of you who don't know: This is absolutely the best Special Operations site on the web!

Select the page you would like to read.

BlackHawk Down!

Read a very well done and indepth story about the 3-4 Oct 1993 Sustained fire-fight in Somolia during the attempt to capture Mohamed Farrah Aidid. Two Pararescuemen and one Combat Controller were there. Includes video and audio exerpts, photos, interviews and much more.

Pentagon Quality Award:
This site recently received the Pentagon Quality award for excellence in a military site. It has also been selected as a FEATURED PAGE in the Geocities Pentagon/Air Force section.


---

Special edition Newsletter - Jim Watson asked me to post the Special edition Newsletter containing information on the return of Jolly 67, and numerous letters in remembrance of CMSGT Chuck Walther who recently passed away. See the Air Force News story Arlington funeral honors crew of Jolly Green 67 for details and photos of the funeral.
---
Who are we and what do we do? The following job description is extracted from AF Policy Directive 16-12: Pararescue is a component of the Combat Search and Rescue (CSAR) force or part of unconventional Special Tactics Teams (STS) and provides a capability Joint Force Commanders can use to recover combat aircrews and other isolated personnel. Pararescue is the only DOD specialty specifically trained and equipped to conduct conventional or unconventional recovery operations and is the force of choice for assisted survivor recovery. Pararescue performs as an essential surface/air link in Air force and Special Operations search, rescue, and recovery operations by functioning on aircrew status or as surface elements and teams. They provide a rapid response capability and operate in a wide range of adverse geographic and environmental conditions, day or night, on land or water, to include in friendly, denied, hostile, or sensitive areas. They also provide short and long-term survival and evasion assistance, short and long-term emergency and field trauma care, and security. Pararescue forces are capable of moving objectives (personnel and materiel) to safety or friendly control when direct recovery by aircraft is not possible.


---


Pararescue Creed:
It is my duty as a Pararescueman to save life and aid the injured. I will be prepared at all times to perform my assigned duties quickly and efficiently, placing these duties before my personal desires and comforts. "These things I do that others may live."

Recommended Pages for first time visitors:

Short history of Pararescue
Learn about the beginnings of Pararescue and some of the accomplishments and missions that PJs have undertaken.

Pararescue Overview
Here is a general overview of the Pararescue careerfield including capabilities, incentive pays, duty stations, and eligibility requirements.

Indoctrination Course
A complete and detailed description of the OL-H, easily the most physically demanding school in the Air Force. Details of the exercises, water harassment, swim and run times, and other criteria required to graduate the Indoctrination course..."Quality not quantity".

Pararescue School
Visit the final and longest school in the pipeline. Contains descriptions and pictures relating to every phase of the USAF Pararescue school located at Kirtland AFB, Albuquerque, New Mexico.

Pictures
Various pictures of exercises and training events. Rarely updated...this too shall pass...

Sign My GuestBook
Sign the guestbook and let me know what you think.

View My GuestBook
See who has been here before.



Been here before?

Then you can see things have changed somewhat. I did this to ensure people get the most from the site. Due to some good feedback, I removed the GIANT opening graphic so the page should load faster. As Always, let me know what you think and fill out the Feedback form so I can improve it even more.

Get the word out:

Spread the word, E-Mail your friends, let them know this page exists! I am getting a lot of hits, E-Mails, and questions but can always go for more! And on that note, please be patient as I am TDY a lot and it may take me a while to clear the mail box.




THE WORLD




IS OUR DROP ZONE
---

LinkExchange Member Free Home Pages at GeoCities

This Site Is Best Viewed With Netscape Navigator
Recommended Resolution: 800x600 - High Color.
---